Spraggs Nominated for Business Excellence Awards
At Spraggs & Co. we have had the privilege of serving injured people, and their families, in the Tri-Cities area for almost 40 years. We are thoroughly committed to the area and to representing and advocating for the needs of the people who live, work and play here. It's great to be recognized for that contribution.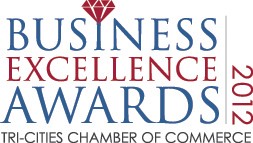 The Tri-Cities Chamber of Commerce recently announced nominees for the 2012 Business Excellence Awards. We are delighted that Spraggs & Co. has been nominated for Business of the Year (10-50 Employees) and that Thomas Spraggs has been nominated for the Business Leader of the Year award. Thank you to everyone who has supported us along this journey. We're looking forward to what the future holds as the Tri-Cities continues to grow and develop.