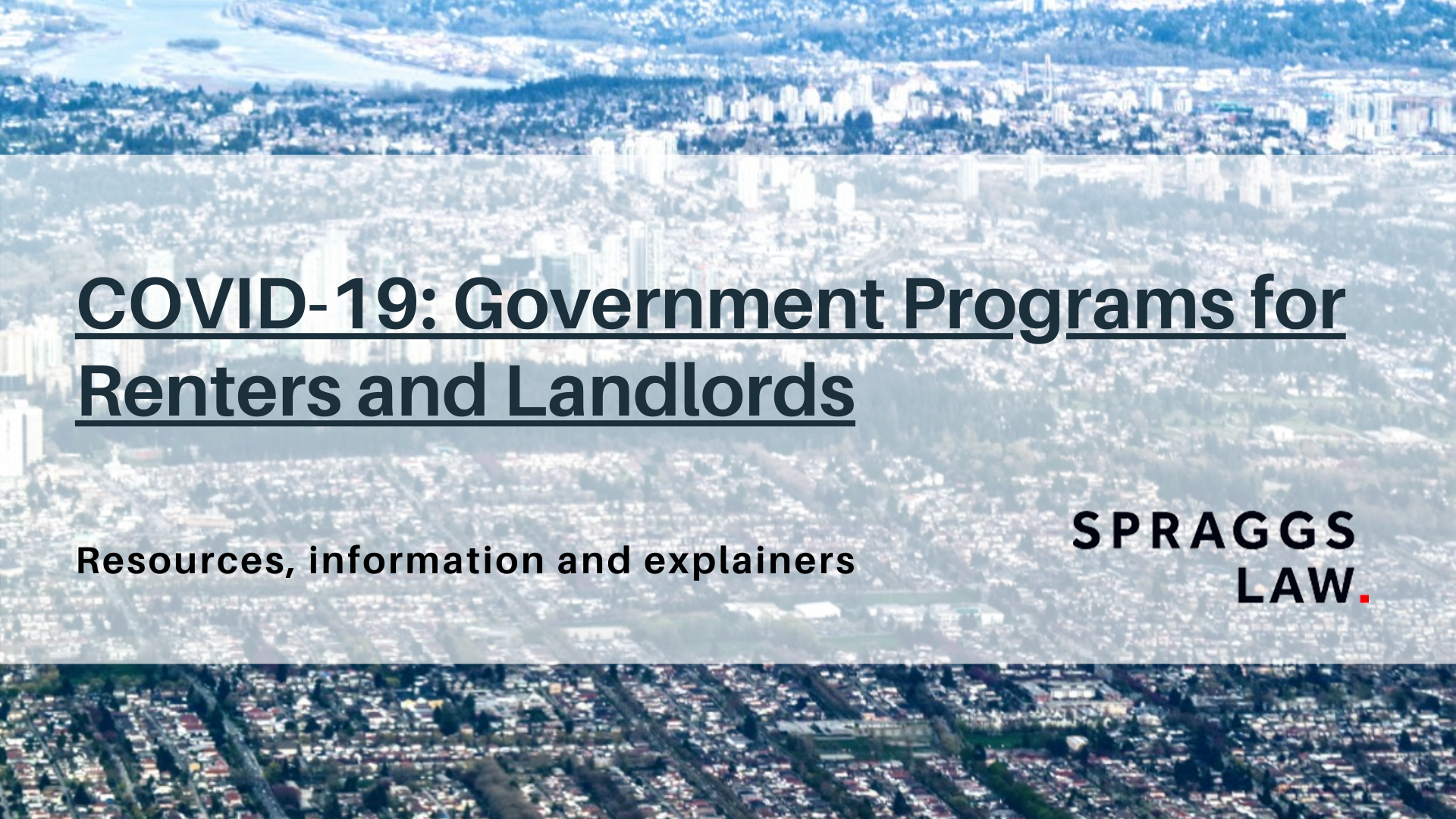 COVID-19: Resources for Residential Renters and Landlords
Posted on by Spraggs Law
Note: This article about government COVID-19 resources for renters and landlords does not contain legal advice. If you would like advice on your specific situation, please contact Spraggs Law. In addition, the information about government programs below is not comprehensive, and may change in the coming days, and also may be inaccurate. Accordingly, please exercise due diligence.
As a result of the ongoing COVID-19 crisis, the British Columbia provincial government and the federal government have created a variety of resources for families, employees and businesses. This short blog post curates available information about B.C. provincial governments measures and resources for residential renters and landlords as of March 30, 2020.
B.C. COVID-19 Rental Supplement
The new rental supplement provides renters with up to $500/month towards rent. This supplement is paid directly to landlords. Applications for the supplement will open soon on the BC Housing website.
"If you can pay your rent, you should pay your rent – this fund is there to help those people who are in genuine distress," said B.C. Premier John Horgan.
Freeze on Rental Rates
There will be no rent increases allowed in BC, effective April 1. See the B.C. government announcement for more details.
Halt on Evictions in B.C.
New and active evictions have been halted in B.C. during the COVID-19 pandemic, except for exceptional circumstances. The B.C. Residential Tenancy Branch has more details.
Supports for Landlords During COVID-19
Under the new changes, landlords are still permitted to apply for permission to issue a notice to end tenancy in exceptional circumstances, such as when the safety of the landlord or other tenants is at risk. Landlords are also able to restrict the use of common areas by tenants or guests to protect against the transmission of COVID-19. Read more >>
COVID-19 Mortgage Support for Homeowners
The Canada Mortgage and Housing Corporation and other mortgage insurers offer tools to lenders that can assist homeowners who may be experiencing financial difficulty.
Mortgages (CMHC-insured)
Mortgage payment deferrals maybe be available for CMHC-insured loans. Check with your lender for more information.
Mortgages (non-CMHC)
According to the Canadian government, you should check with your lender about payment deferral options.
Other COVID-19 Supports for BC Families
ICBC Autoplan
ICBC offers Monthly payment deferral for up to 90 days with no penalty. Call 1-800-665-6442 or apply online.
BC Hydro
Bill deferral, payment plans, as well as crisis funding is available. Call 1-800-BC-HYDRO or apply online.
Check Back for More Information
information will be published on the B.C. COVID-19 Provincial Support and Information page. The team at Spraggs Law hopes you and your loved ones stay safe, and look forward to staying in touch.