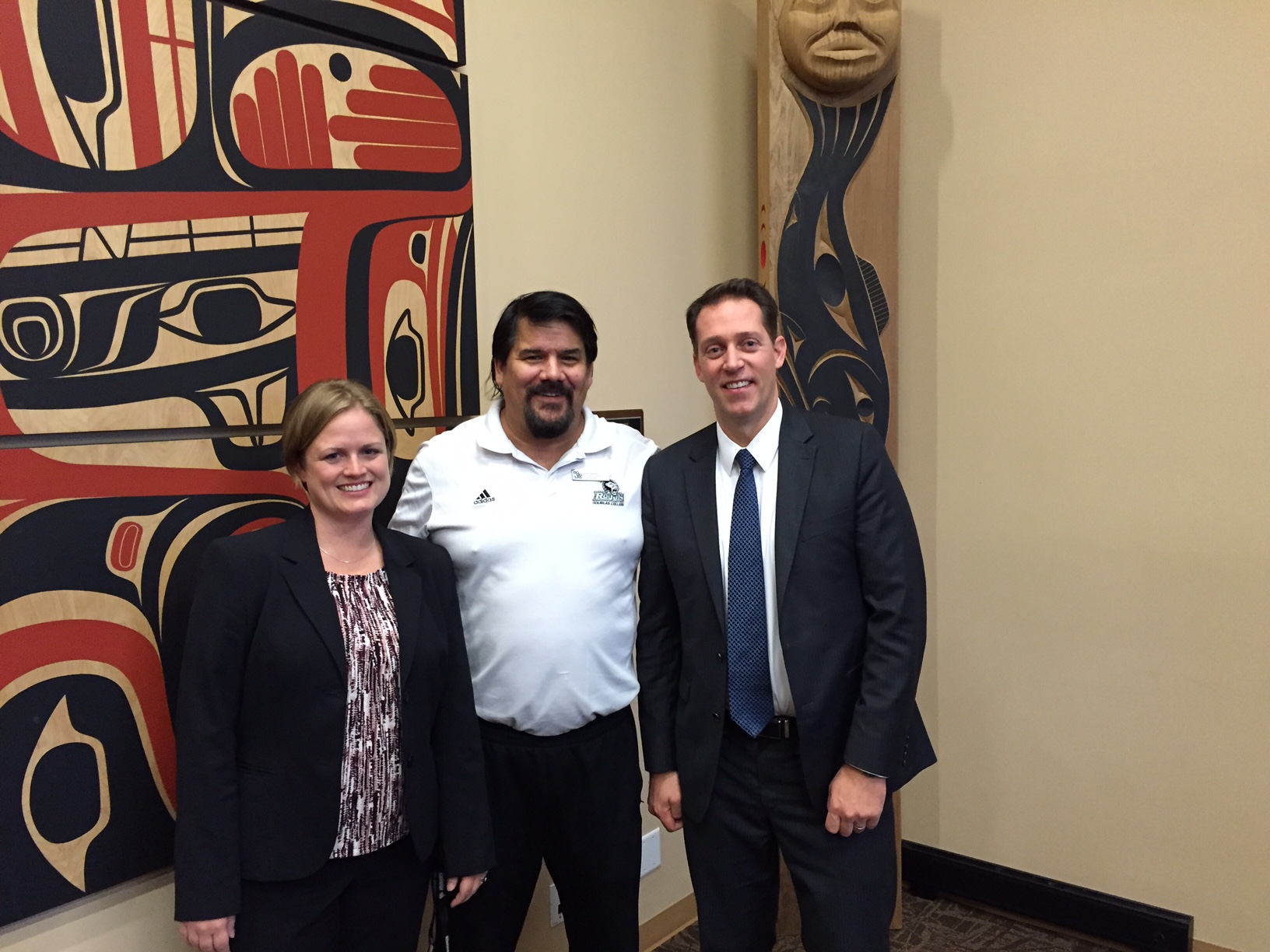 Tricities/New Westminster CBA Section Welcomes Justice Crawford
Posted on by Spraggs Law
Spraggs & Co. has been active in our local community for around 40 years. As personal injury lawyers, we have had the privilege of serving thousands of injured people, and their families, in that time. We are also active in the legal profession, always seeking to elevate the quality of legal services we provide to our clients, who are first in everything we do.
As part of our commitment to the profession, Spraggs & Co. was a catalyst in the formation of the Canadian Bar Association (CBA) Tri-Cities/New Westminster Civil Litigation Section. To help us launch the work of the section we welcomed Justice Crawford at the inaugural meeting.
The meeting was held at the Aboriginal Gathering Place on the Douglas College Campus. Aboriginal Student Services Coordinator, Dave Seaweed (pictured with Kristin and Thomas), welcome the attendees and spoke of the importance of the room to the QayQayt First Nation.
Section co-chairs and Spraggs & Co. lawyers, Kristin Gardner and Thomas Spraggs, introduced Mr. Justice Robert Crawford. Justice Crawford gave an engaging presentation about the importance of decorum in the courtroom, and shared a number of personal anecdotes from his long legal career and time on the bench.
Justice Crawford illustrated the importance of mutual respect between opposing counsel with a particularly illuminating example, stating that the highest form of trust and respect between counsel is when a list of documents for a disputed claim is several pages long but the correspondence folder is less than an inch thick. Counsel does not need to resort to letter documentation to have opposing counsel respond to their requests and inquiry.
Justice Crawford gave a spirited response in regards to his views on a judge's role in maintaining decorum in the courtroom. In Justice Crawford's opinion, a judge should take an active role in controlling the courtroom, cutting off any discourteous remark or challenge of judicial authority, with a glancing look or a few choice words.
It was a successful inaugural event for the civil litigation section, and just another way we at Spraggs & Co. demonstrate our commitment to the legal profession in ways that serve our community.
Members of the Spraggs & Co. team pictured below: Olivia, Sahasra, Paul, Kristin and Dave.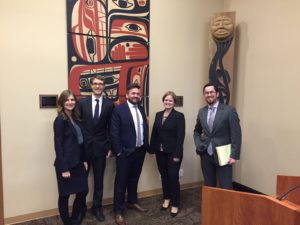 Tags: Spraggs & Co.