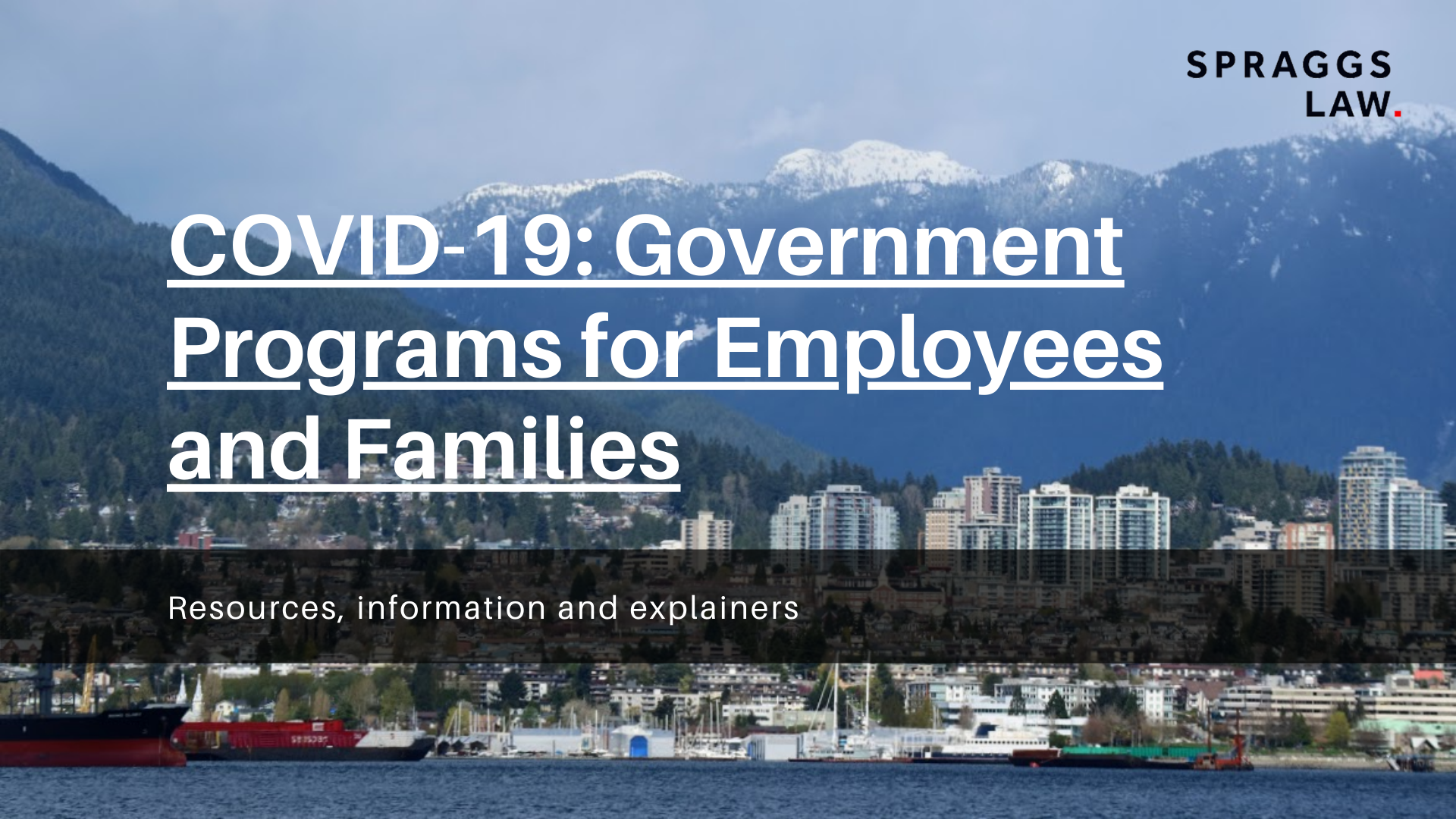 COVID-19: Government Resources for Employees and Families
Posted on by Spraggs Law
Note: This article about government COVID-19 resources for employees and families does not contain legal advice. If you would like advice on your specific situation, please contact Spraggs Law. In addition, the information about government programs below is not comprehensive, and may change in the coming days, and also may be inaccurate. Accordingly, please exercise due diligence.
As a result of the ongoing COVID-19 crisis, the British Columbia provincial government and the federal government have created a variety of resources for families, employees and businesses. This short blog post curates available information about COVID-19 employment resources for families and employees as of March 23, 2020.
UPDATE (March 25, 2020)
On March 25, 2020, the federal government announced a new Canada Emergency Response Benefit (CERB):
To support workers and help businesses keep their employees, the government has proposed legislation to establish the Canada Emergency Response Benefit (CERB). This taxable benefit would provide $2,000 a month for up to four months for workers who lose their income as a result of the COVID-19 pandemic. The CERB would be a simpler and more accessible combination of the previously announced Emergency Care Benefit and Emergency Support Benefit.
Here are the coronavirus financial supports available for British Columbians as of March 25, 2020 >>
Federal Package for COVID-19 (From March 23, 2020)
As a first step, be sure to review the federal government's Canada COVID-19 Economic Response Plan. This CBC News article explains how to apply for EI and COVID-19 emergency benefits. A CTV explainer includes details about the new emergency worker fund.
Federal COVID-19 Support for Families and Employees
Kevin Milligan, an associate professor of economics at the University of British Columbia, has used Twitter to curate a variety of links to federal COVID-19 relief packages.
Milligan notes the federal response can be sorted into four "buckets". Two of these buckets are generally addressed at families and employees:
Cash Support (CCB/GST)
Expansions to Employment Insurance (EI)
1. Cash Support for Families
The Canadian Child Benefit (CCB) will be increased by at least $300 per eligible child.
Targeting lower- and middle-income families, the federal government will provide Canadian families with GST credit of at least $400 for singles, and at least $600 for couples, says Milligan.
If you or your family already receive such payments, funds will be directly deposited into your bank account, and will be delivered by May 2020.
2. Expansions to Employment Insurance (EI)
Milligan reports that changes to EI include:
Milligan also observes that Employment Insurance has been tweaked in several ways:
Waiting periods have been waived
Doctor notes for sick leave are waived
For new EI programs, an application website in early April
Simple attestation checkbox on website; no documents or verifications will be necessary
Milligan then continues with a discussion of federal COVID-19 supports for businesses.
Plain Language Guide to Federal COVID-19 Benefits
Jennifer Robson, an associate professor at Carleton University who specializes in public policy has created a plain-language guide to federal COVID-19 benefits  as of March 22, 2020. The document provides several checklists that will help families and employees determine what benefit or program they qualify for.
British Columbia COVID-19 Programs So Far
On Monday, March 23, the British Columbia provincial government announced a B.C. announced $5B relief plan for residents and businesses during COVID-19 outbreak. According to the provincial government, the plan is intended to provide immediate financial relief to families in coordination with federal initiatives and laying the groundwork for the economy's eventual recovery.
B.C. Emergency Benefit
A new B.C. emergency benefit will give a one-time, tax-free, $1,000 payment to people whose ability to work has been affected by the outbreak.
The provincial government is freezing B.C. student loan payments for six months, starting March 30, 2020, while ICBC and BC Hydro will offer deferral programs as well.
B.C. COVID-19 Self-Assessment Mobile App
Besides employment and income support, the British Columbia government has released a new COVID-19 Self-Assessment mobile app.
Check Back for More Information
More information will be published on the B.C. COVID-19 Provincial Support and Information page. The team at Spraggs Law hopes you and your loved ones stay safe, and look forward to staying in touch.
Tags: employment law